Name: Carlos 

School: Reed College 
Carlos is a naturalist committed to protecting the environment. His academic path in Natural Resources and Environmental Studies is driven by his deep connection to nature and the urgency of addressing climate change. Carlos aims to be a scientist making a difference in ecosystem preservation.
"Only with the help of financial aid and scholarships am I able to attend college. The Caste Action Alliance Scholarship provides support for me in my pursuit of scientific education. My long-term goal of becoming a geoscientist and working in environmental preservation will be made possible with your support."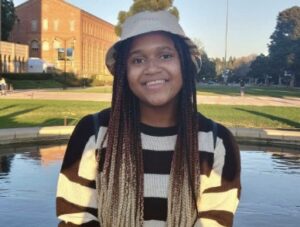 Name: Jenaye 

University of California Los Angeles 
Jenaye, a dedicated nursing student, finds fulfillment in empowering patients and helping them make informed healthcare decisions. She's also passionate about Japanese culture and aims to use her language skills to provide healthcare support for Japanese Americans. Jenaye's own struggles and family's medical challenges motivate her to excel in nursing.
"I greatly appreciate the support I am receiving to pursue higher education. I will work hard in my courses and jobs in order to graduate well with a double major of nursing and Japanese. I hope to return to my community after graduating and work locally as a way to give back. Thank you so much!"
Name:

Zola 

School

: University of California Los Angeles
Zola aims to become a constitutional lawyer and public servant. She plans to use her law degree to work on a congressional subcommittee and advocate for her community. Her family's history includes enslaved ancestors, which drives her to seek justice and contribute to her community's well-being. Zola is motivated to enact positive change through law and representation.

"The Caste Alliance Scholarship is a very helpful resource to assist me in paying for college. In addition, to help pay for my schooling, I plan to hold a part-time job during the school year and work a full-time job during the summer. The Caste Action Alliance Scholarship gets me a few steps closer to achieving my dream of helping those without a voice."
Name:

Ciara

School:

University of California San Diego
Ciara is a first-generation college student pursuing a major in Communication, Journalism, and Real Estate and Development. Her dream is to become a real estate developer and advocate for underserved communities. Carla's volunteer work during the pandemic reinforced her commitment to community service. She's actively engaged in student organizations promoting diversity and equity.

"Thank you for allowing me to be a recipient of the Caste Action Alliance Scholarship. Coming from a low-income background I never dreamed of being able to attend let alone afford going to such a prestigious university."
Name: Kennedy

School: Indiana University Bloomington 
Kennedy is pursuing a Ph.D. in Social-Cultural Anthropology to study the experiences of Oceania's indigenous groups in relation to Black identity and solidarity with the African diaspora. Her passion for understanding the influence of Black culture beyond the Americas and Africa motivates her. She's actively involved in student associations promoting racial justice.
"Thank you for your support. I hope to use my college education and research experience to one day help others, as you have helped me. Your generosity has truly made a difference in my life."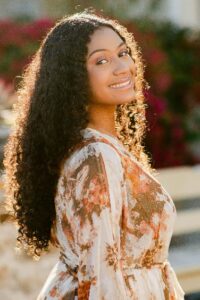 Name: Johanna 

School: UC Berkeley
Johanna, a first-generation college student majoring in psychology and social welfare major at UC Berkeley, faced discrimination and depression. She embraced her biracial identity, breaking free from stereotypes and conquering her depression. Her family's history of slavery inspired her to study psychology and provide mental health support to ethnic minorities affected by historical trauma. She's committed to uplifting marginalized voices and advocating for justice.
"It is a great honor to receive your generous scholarship that will help fund the expenses of my education at UC Berkeley. Once I receive my degree my goal in life would be to help people overcome the effects of trauma, deal with mental illness, face a mental health crisis, or achieve personal goals."
Name: Alisson

School: Monterey Peninsula College
Alisson, a first-generation college student majoring in criminology at MPC, is dedicated to social justice. Her journey started in high school when she got involved with the Black Lives Matter movement, uncovering the systemic inequalities in society. She's been active in her community, amassing over 120 hours of volunteering, from kids' camps to political campaigns. Monica aspires to become an FBI investigator to ensure fairness in criminal justice. She's already initiated change by founding a political activism club at her school, addressing issues like homelessness.

"As a first-generation college student and child of a single mother, my college dreams are ones shared not only by myself but by my entire family. Being a low-income student I have many worries in regards to how I'm going to afford college. Through scholarships and other financial assistance, my worries have slowly lessened. I have hopes of transferring to the University of California and obtaining a Criminal Justice degree and eventually becoming a criminal investigator. Thank you for helping an underprivileged woman of color get one step closer to her dream of making a positive impact in her community."
Name: Javier

School: UC Berkeley
Javier, a first-generation college student majoring in World Affairs and International Issues, aspires to join the State Department's Foreign Service. Growing up in regions of Mexico with African heritage, he's witnessed racism and discrimination. His goal is to bridge cultural gaps between nations and work toward greater understanding. Javier's personal experiences have fueled his commitment to global diplomacy.

"It is wonderful to have been selected as a scholarship recipient for a second time. Paying for books, clothes, transportation, and many other necessities is what first-generation, low-income students struggle with on a day-to-day basis, along with intense academics. Through the help of scholarships such as these, we are able to continue our education in a slightly more privileged way, without worrying about financial constraints."
"You may not always have a comfortable life, and you will not always be able to solve all the world's problems at once, but don't ever underestimate the importance you can have because history has shown us that courage can be contagious and hope can take on a life of its own." ~ Michelle Obama