Honoring Our Ancestors and Making Amends
Plaque of Remembrance—Honors Enslaved African Ancestor
Epitaph of Atonement—To make amends for ancestors who perpetrated and perpetuated systemic slavery of African people in the US (i.e. Blackbirds—hunters of fugitive enslaved people, plantation owners, slave patrols, "patrollers" or "patty rollers"—organized groups of armed men who monitored and enforced discipline upon enslaved Africans in the antebellum U.S. southern states). 
Epitaph of Achievement—To acknowledge ancestors who opposed the enslavement of African people, an enslaved ancestor who excelled in the midst of and in spite of slavery (Frederick  Douglass, Shadrach Minkins), Abolitionists (Isaac Hopper—a Quaker, John Brown, William Still), enslaved ancestors who revolted and resisted (Nat Turner, Harriet Tubman). 
 Below are examples of some of the plaques created and displayed by our members after conducting family research. 
My great-grandfather James H. Long served with the Illinois Volunteers during the Civil War.  His health was broken as a result of suffering from malaria, scurvy, and break-bone fever during the last months of the war in Texas. He died in a Veteran's Home in Anacortes, Washington.  By Sharon Miller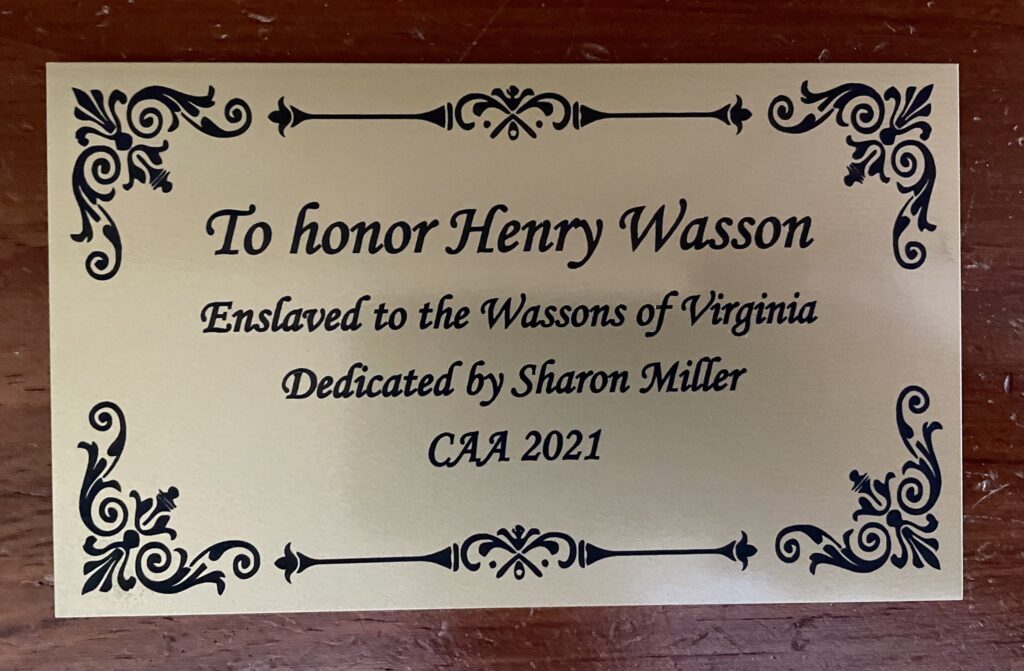 This is the plaque honoring an elderly Black man I discovered members of my family had brought with them when they migrated from the South where he was enslaved to Illinois.  By Sharon Miller
My husband and I discovered that his sixth great-grandfather, Richard Woodhull III, owned an enslaved man named Titus in New York City in 1776. We honor Titus and his descendants for their sacrifice.   By Carie Broecker
This is out in front of our house.  I hope to find out the names of the slaves that belonged to William McDowell.  My Mormon cousin recently told me that this ancestor had slaves, probably in Kentucky.  I will make a new plaque when I have more information.  By An McDowell
There is the Tomb of the Unknown Soldier in Arlington Cemetery. No such memorial acknowledges the thousands of enslaved persons who worked without pay, lived without freedom and died without a gravestone. My plaque is for them. By Pam Bonsper 
My plaque honors my great-great-great-grandfather, Moses Gentry. Our family has uncovered the slave log documenting that he was brought over on a slave ship to Harrison County in West Virginia in 1860. There he was purchased by a plantation owner, named Michael Gentry. He was taken to Longview, Texas where he lived out the rest of his life.
Great Granddaddy Moses had to be strong and persevere under unspeakably inhumane conditions. Because he managed to survive, his bloodline was passed on to me. I am deeply grateful. Moses Gentry's sacrifices have made it possible for this family line to thrive and continue to RISE!!! By Bry'Andi Brandon
"T
he way to right wrongs is to turn the light of truth upon them." ~
I
da B. Wells